Concrete Countertops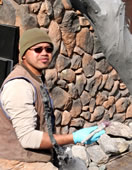 INSTRUCTOR: Phoenix Burmudez (see bio)
Concrete has become a material that homeowners are requesting in the most amazing ways. But leading the charge in the concrete craze are concrete countertops. Concrete is becoming an increasingly popular choice for countertop materials.
Concrete countertops are a warm natural looking material that joins well with the popularity of more natural materials like wood, stone, and brick.
Chemical stains, coloring pigments, various aggregates, and epoxy coatings can give concrete the look, texture, and feel of quarried stone such as marble, granite, and limestone.
ISBA is proudly presenting a short course on design and construction of Concrete Countertops.
Join Phoenix Burmudez as he leads the student through the process of making the  countertop to complement your home.  The course will run for 5 days from July 30th to August 3rd, 2012.
For more information please phone (250.247.8922) or email us (info@isba.ca )