Instructors


James Mitchell , Builder, Author and ISBA Big Wood Instructor for over 16 years.
" I grew up where big trees, mountains and sea were my playground… I loved to build, forts on the ground, underground, in the trees, on the water, out of sand, snow, hay bales, wood or whatever I could find".      That passion led to log and timber joinery… Years of learning and doing led to teaching and writing…Decades of focus lead to an understanding...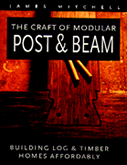 His book Craft of Modular Post & Beam was the first to introduce modular log building, making it doable for Owner/builder's and eliminating the boom-and-bust cycle for the Contractor's.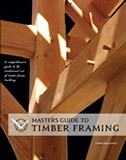 His book Master's Guide to Timber Framing is the first to introduce timber Virtual Layout and Mitred Joinery based on Centerline Referencing…Achieving perfection with an imperfect material and uniting round (log) with square (timber).
 James never lost focus of that passion and for over thirty years has been building, writing and teaching about Big Wood construction,; helping people achieve understanding and independence in building and owning their home,...it is the Island Way.
Curriculum Vitae:
1974 Graduate, B. Allan Mackie School of Log Building.
1974-79 Builder,  Log and Timber housing,  British Columbia.
1978/9 Instructor,  B. Allan Mackie School of Log Building.
1981 Graduate, Industrial Education, University British Columbia.
1983 Videos, Construction, Homeowners Assistance Program, NWT Housing Corp.
1984 Author, Short Log and Timber Building Book, Hartley & Marks Publ.
1986 Videos/Manuals, Northern Contractor Development, NWT Arctic College.
1992-95 Owner/Builder,  4500 sq. ft. P&B ISBA Residence.  
1997 Author, Craft of Modular Post & Beam, Hartley and Marks Publ.
1999/2000 Director, Log and Timber Industry Association of B.C
1997-…  Founder/Instructor, Island School of Building Arts.
2012 Owner/Builder, ISBA Great Hall 
2012 Author, Master's Guide to Timber Framing, ISBA Publ.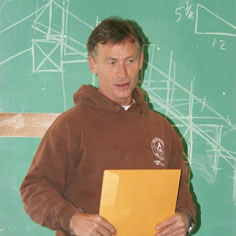 Fireplace/ Stonework Instructor Chris Bell, born in the South of England and apprenticed with Stone Masons registered with the guild of Master Craftsman for four years. With 20 years experience he Worked on projects in the UK for the Duchies of Cornwall estates (Prince Charles), and the National Trust. Chris eventually brought his trade to Canada, winning awards for best restoration on a heritage home in Vancouver, BC. Chris continues his art on Gabriola Island, where he is in demand for his skill in this traditional craft.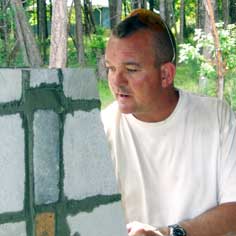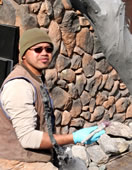 Concrete Counter Instructor Phoenix Bermudez was born in the Philippines and raised in Edmonton, Alberta. Shortly after graduating high school in 1990, he entered into the commercial art field working several years for himself and others as a designer in print/ illustration and multimedia. In 1997 Phoenix began a career as a sculptor/fabricator in the the ming industry with Sawatzky's Imagination Corporation. For nine years he worked in all aspects of the industry and helped them garner several international sign making and the ming awards. This unique trade has allowed him to explore working in diverse media such as GFRC concrete, painting, steel fabrication and CNC machining. Phoenix went on to further his knowledge when he formed his own company, Stonetree Studios, in 2006. This company been publicly recognized for its creative and innovative approach to design in steel and concrete. He began expanding his work with GFRC Concrete in mold making, countertops and lightweight concrete casting, and has explored the more specialized aspects of metal casting, forming, wrought iron, polycarbonates, fiberglass, urethanes, epoxies and cold casting. As a fine artist, Phoenix is currently creating a series of metal tree sculptures for exhibition, ranging from bonsai to life size.