Building with Logs Overview


Do you dream of building a hand-hewn log cabin in the wilderness or creating a log home that will stand the test of time for a century or more? Building your own log home can be an equitable and satisfying experience if you are prepared and learning how to work with big wood in the round form is the foundation for success.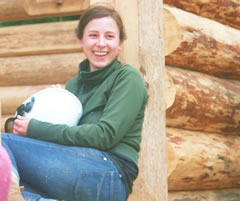 Logs are heavy, so notched corner log buildings were historically smaller in size. The Log Building course at ISBA teaches students to work in the modular style, with logs that are shorter and easier to manage while still being scribed to fit and handle the outside weather. Modular Log Building does not require heavy lifting cranes, large worksites and substantial labour, which is difficult and expensive.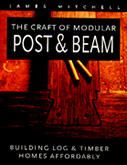 Master Builder, author and instructor, James Mitchell, teaches the traditional method of Scandinavian Scribe Notch Corner (Laftwerk) and French Short Log (Piece-sur-Piece) construction, together with Modular Post & Beam (Stav og Laft) design. These courses are designed to provide the method and skills to construct a variety of log structure styles. Various work stations, utilizing innovative jigs, enable simultaneous fabrication of components, which increases efficiency and productivity. Students learn more skills in less time.
Log building components can be incorporated into timber frame and hybrid housing designs, adding value and esthetic appeal. In order to marry the round(ish) with the square(ish), there must be a consistent method of referencing the connection between these two different styles and the centerline method is the only way! The centerline reference method learned in the ISBA Log Building course is the same fundamental approach used in the ISBA Timber Frame Post and Beam and the Timber Frame Hammer Bents courses. The 'virtual layout' method and 'mitred joinery' approach transfer between all three classes and provide the framework for step-by-step skills building.
The curriculum for the Log Building course is centred on a set of learning objectives that provide students with all the foundational and problem-solving skills needed to go forward and build with logs, either for personal projects or working in industry. The course project for ISBA Log Building is a full-sized 16' x 16' notched corner cabin.
Photos Click on photos below for a larger image
ISBA Graduates: James's new log building book will be a follow up to the Master's Guide to Timber Framing and he would like to feature graduate project photos. Please connect with the school at
info@isba.ca
for more information.